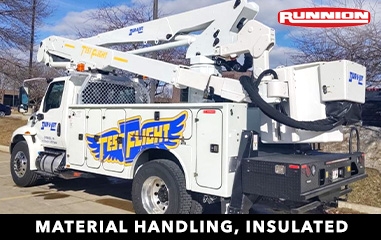 Material handling bucket truck with working heights to 67 feet. 2021 International MV607.
Contact the following authorized Dur-A-Lift dealer for inquiries and pricing:

Runnion Equipment Company
Dan Runnion
Office – 708-447-3169
6201 East Ave, Hodgkins, IL 60525
DPRunnion@runnionequipment.com
http://www.runnionequipment.com
Product Specifications

Unit number: VIR-A11297
Model: DLT2-60DU
Price: Call for price
Lift capacity: 1,000 lbs
Reach: 67 ft
Engine manufacturer: Cummins
Engine model: B6.7 – 325 hp @ 2400 RPM
Truck year: 2021

View all of Runnion's current Dur-A-Lift listings at https://www.runnionequipment.com/brands/dur-a-lift

Call Runnion at 708-447-3169 for more information and product availability.