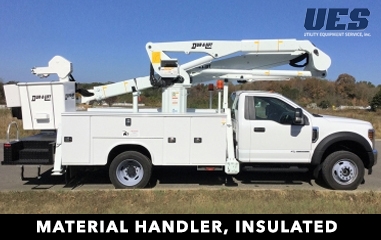 Telescopic articulated, material handling bucket truck with working heights up to 54 feet
Contact the following authorized Dur-A-Lift dealer for inquiries and pricing:
Utility Equipment Service
4584 Tom Lunn Road
Spring Hill, TN 37174
931-489-0900
www.1ues.com
Products Specifications

Unit Number: B-1589
Chassis Info: 2018 Ford F550 4×4
Unit Info: Dur-A-Lift DPM2-47DU

Additional Specs

Year & Make: 2018 Ford F550 4X4

VIN#: 1FDUF5HTOJEC81566

Engine Type: 6.7 Diesel

Transmission: Automatic

Truck Hrs: 20 Hrs.

Tire Size: 225//70R//19.5

Tire Condition: 100%

Paint Color: White

Front Axle: 7500 Rear Axle: 14,706

Brakes: Hydraulic

GVWR: 19,500

Mileage: 001015

Body Type: Line//Utility Brand FX

Accessories: AM//FM, A/C; Strobes; Receiver hitch; OR Pads

Notes:

Device Manual Provided

Lift Meets and/or Exceeds All ANSI Requirements and Truck D.O.T. Inspected

Make: Duralift

S/N: A10664

Model: DPM2-47DU

Working Height: 52 ft.

PTO Hrs: N/A

Basket Configuration: 2 Man

Tool Circuit: Yes

Outriggers: 4 Hyd.

Insulated Boom: Yes

Jib/Material Handler: Yes

Winch: Yes

Contact UES at 931-489-0900 for more information and availability.
Photo Gallery