RUGGED

PERFORMANCE
Dur-A-Lift's hybrid technology can be used for full pressure hydraulic operation of the aerial device, hydraulic tools, and outriggers without any loss in function, even when the battery runs low. The dual charging system charges with a standard 120V, 15-amp outlet as well as while the chassis is running. The battery management system monitors charge levels and automatically starts the chassis engine when needed. There is the ability to recharge the chassis battery if needed.
SIMPLE, QUIET

OPERATION
The lithium-ion battery allows for extremely quiet operation. An indicator light on the lid shows when the lift is in use. When the battery runs low, the chassis automatically restarts and the PTO engages in a nearly seamless transition. The hybrid hydraulic pump can be turned on from either a wireless remote or a palm button located at the basket. The pump automatically shuts down if the operator leaves it running.
FLEXIBLE

UPFIT
The hybrid option is a self-contained unit and will work on virtually any gas or diesel stock RAM or Ford chassis (inquire about others) allowing for a flexible upfit for your next bucket truck. The hybrid enclosure contains the energy management system and battery packs providing for easy maintenance access. There is a built-in inverter for 120V AC outlet applications and heating pads for cold weather recharging.
Whether your buying decision is based on wanting to be gentle to our green earth or on keeping the green in your pocket, Dur-A-Lift hybrids are the way to go. To learn more about the advantages of the hybrid aerial operation for your next bucket truck, contact us.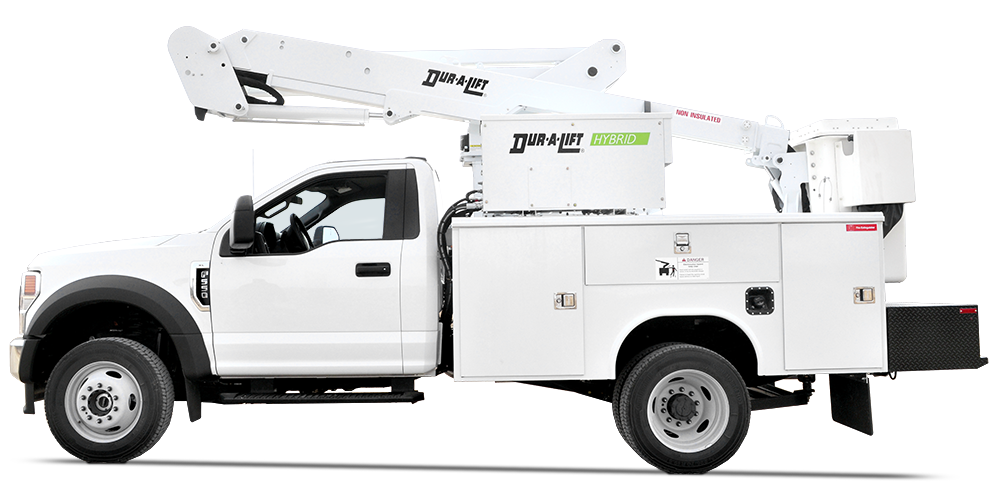 4 hours of run time:

Get up to four hours of continuous runtime on a single charge, more than what is necessary for most normal workdays.
Extremely quiet operation:

The system is so quiet, we have added a light, so you know it is running. Battery powered operation is ideal for residential areas or instances where you are working early or late hours. It also allows for easy communication between the operator and those on ground level.
Seamless transition:

Once the battery is depleted the system will seamlessly transition over to PTO power with no extra steps required from the operator.
Straightforward operation:

Learning to use the hybrid system is easy, as it requires many of the same steps that a traditional aerial lift would.
Recharge between job sites:

Top off the hybrid battery charge while driving between job sites with a simple push of a button.
Powerful:

The hybrid system operates just as efficiently and with as much power as a traditional, PTO run aerial lift.
Simple charging:

Recharge the hybrid battery from the chassis alternator or any standard 110-volt outlet. Plug in overnight for a full recharge. There is no need to worry about overcharging, the system will regulate itself and turn off when a full charge is reached.
Works in cold weather:

Heaters are built into the inside of the batteries to ensure the system works even in freezing weather.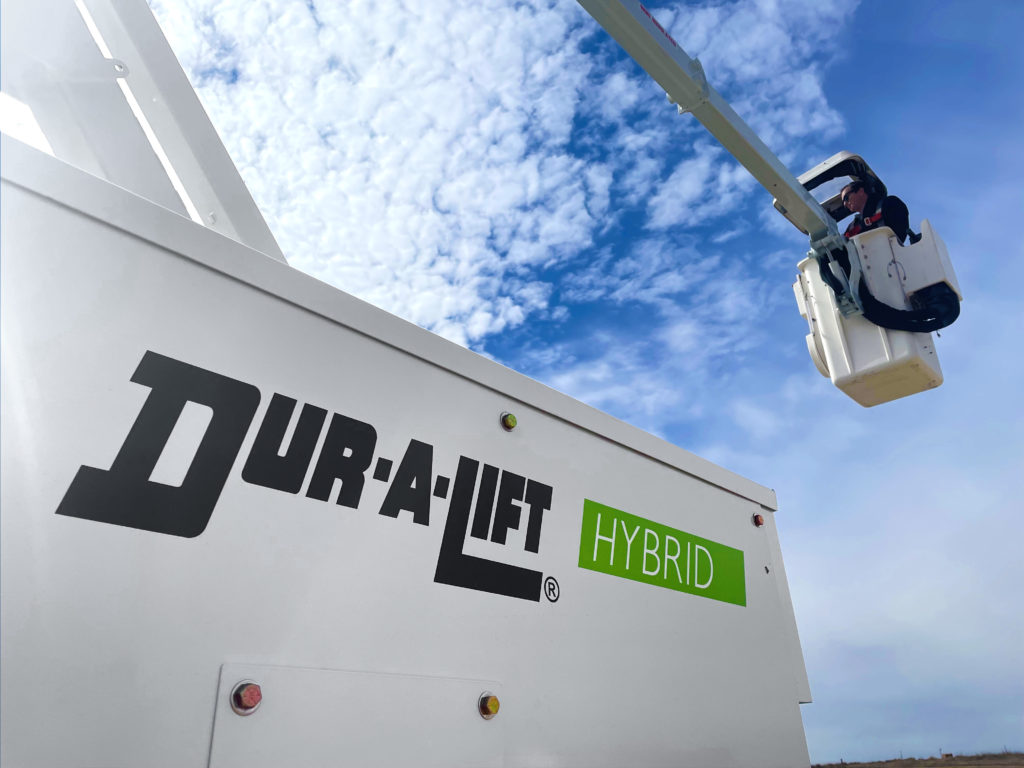 Hybrid

Specifications

48V
Recharge System
Onboard Charger by 120V-15 Amp
Onboard Charger by Chassis Alternator
Duty Cycle
100% Continuous Operation, Up to 4 Hours
Battery Type
Lithium Ion
Battery Life Cycle
Lithium Ion Approximately 10 Years
Operating Range
0 – 120º F (-17º to 48ºC)
System Hydraulic
Hydraulic Pump
System Weight
Approximately 600 lbs.
Product specifications are subject to change without notice or obligation.
*120V AC outlet (primary) & chassis alternator (secondary). No special alternator required.