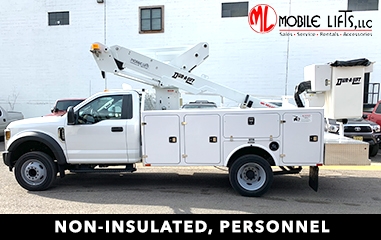 New non-insulated bucket truck with working heights to 44 feet and side reach to 28 feet.
Contact the following authorized Dur-A-Lift dealer for inquiries and pricing:

Mobile Lifts, LLC
3476 Germantown Pike
Collegeville, PA 19426
(610) 489-1900
johnA@mobilelifts.com
https://mobilelifts.com
Product Specifications

Height to bottom of platform 39′
Working height 44′
Side reach 28′
Stowed travel height 10′
Basket capacity 350#
Approximate weight 2450#
Articulating arm travel -2 to 81
Main boom travel -25 to 78
Extension travel 110.5″

Read more about the DTAX series lift here.

For pricing and availability contact John Abbott with Mobile Lifts at (610) 489-1900 or johnA@mobilelifts.com.
Photo Gallery