Quick Links: DCP Product Page | Product Literature | Mobile Mode Video
---
We are thrilled to unveil our latest addition to Dur-A-Lift's cable placing lineup, the DCP-29. Designed with efficiency and versatility in mind, the Mini Cable Placer features a compact design while delivering all the cable placing features you need to get the job done.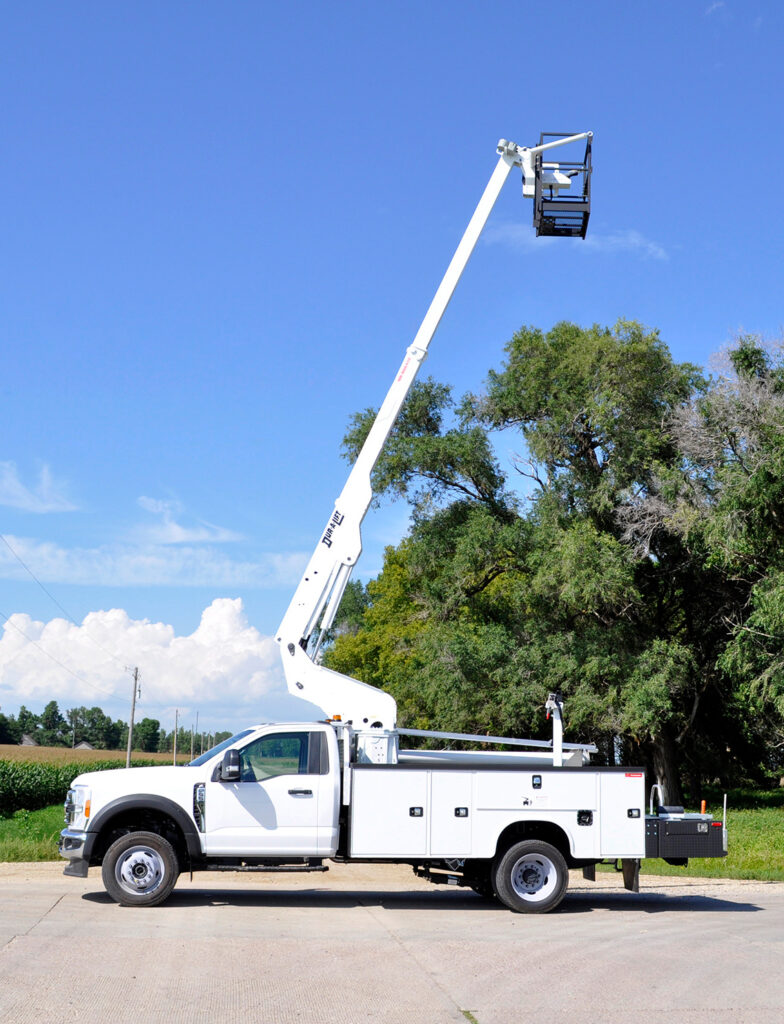 This 14,000 GVWR, Class 3 bucket truck has a telescopic boom that can reach up to 34 feet, allowing you to navigate through tight spaces and reach elevated work areas with ease. It has fairleads for cable lashing that boast a side pull capacity of 400 pounds, and a down pull capacity of 50 pounds. With the ability to operate in both stationary and mobile mode, the DCP-29 offers seamless transitions between on-site tasks and transportation, eliminating the need for additional equipment and streamlining your operations.
Whether you're installing new cables or performing maintenance tasks, this cable-placing bucket truck enables your team to work efficiently at elevated heights while adhering to the highest industry standards. The DCP-29 is ideal for tight urban environments or tackling smaller-scale projects. We also offer a telescopic articulating cable placer that has all of the same features, plus an added max reach of 41 feet, the DCP-36.
For more information about either our cable placer units or place an order, please fill out our Request a Quote form and someone from our team of experts will be in touch.
---
Dur-A-Lift is a leading manufacturer of truck-mounted aerial lifts, for what is better known as a bucket truck, since 1969. Our manufacturing facility is located in the heart of the Midwest and we have dealers nationwide, ready to assist you in finding the right bucket truck to help you get the job done. If you are looking for durability and dependability—you can count on Dur-A-Lift.