Compact. Convenient. Capable.
Dur-A-Lift is excited to announce the release of the DTX2 Series bucket truck, a new telescopic, Class 3 bucket truck that features a bottom-mount basket design and working heights up to 39 feet. This bucket truck is an ideal choice for those looking for a compact lift that works exceptionally well in instances where the work area is obstructed by overhead obstacles.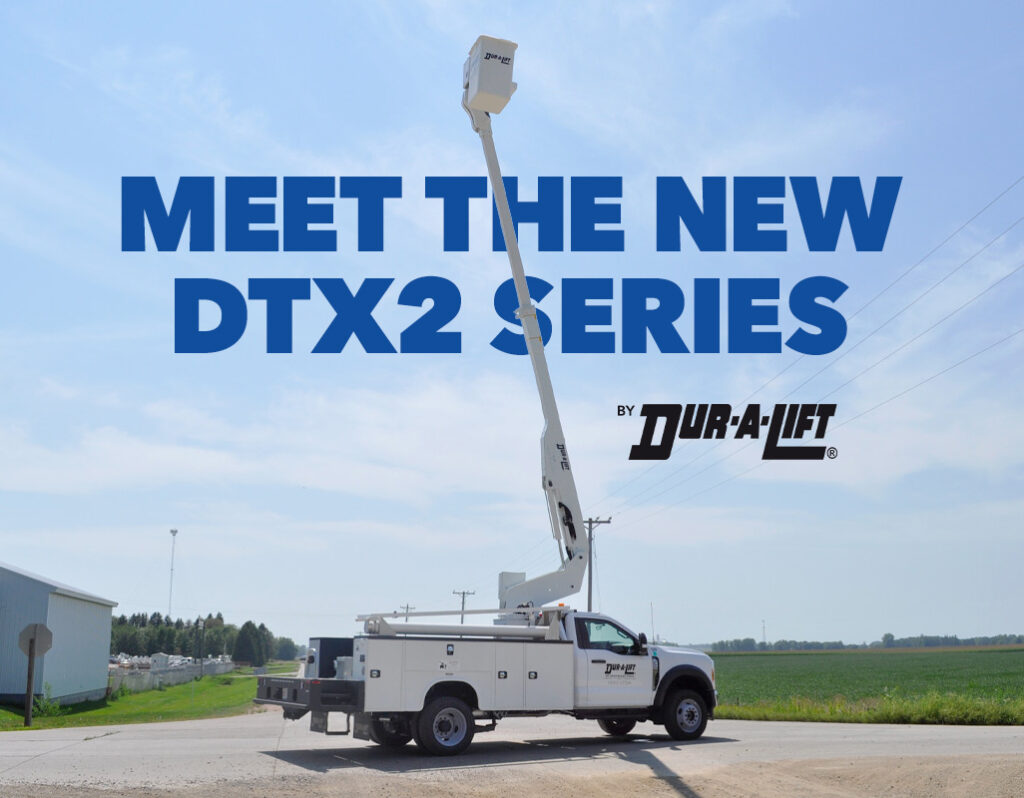 Key Features of the DTX2 Series:
Bottom-Mount Basket Benefits: A bottom-mount basket expands the capabilities of a bucket truck by allowing workers to access areas that are obstructed by overhead obstacles. It enables work to be performed safely and efficiently in tight spaces or areas with limited overhead clearance. The 180-degree basket rotator allows you to access better working positions once the basket is in place.
Enhanced Visibility and Stability: Clear sightlines and improved stability are integral to a successful aerial work experience. Our Class 3 Bucket Truck's bottom mount basket configuration enhances visibility, providing your workers with a better view of the work area. Additionally, the lower center of gravity ensures optimal stability during operation, minimizing any risks of tipping or instability.
Versatility for Various Industries: The DTX2 series bucket truck can be customized for your application, making it useful for a wide range of industries, including telecommunications, utility maintenance, construction, landscaping, as well as sign and lighting. Ask about available body and chassis options and choose from insulated or non-insulated formats.
Compact Design; Big Reach: This compact, Class 3 truck boasts working heights of up to 39 feet. This allows workers to access elevated areas without the need for ladders or scaffolding, improving safety and efficiency. Working at heights can be physically demanding and tiring. A bucket truck provides a stable and comfortable working platform, reducing worker fatigue and making it easier to perform tasks for extended periods.
Connect with our team of experts today to learn more about the DTX2 and find out if this model is right for you! Crafted with precision and built to last, our DTX2 Series Bucket Truck exhibits exceptional quality and durability. Each component is engineered to withstand demanding work environments, offering you a reliable and long-lasting asset for your operations.
---
Dur-A-Lift is a leading manufacturer of truck-mounted aerial lifts, for what is better known as a bucket truck, since 1969. Our manufacturing facility is located in the heart of the Midwest and we have dealers nationwide, ready to assist you in finding the right bucket truck to help you get the job done. If you are looking for durability and dependability—you can count on Dur-A-Lift.